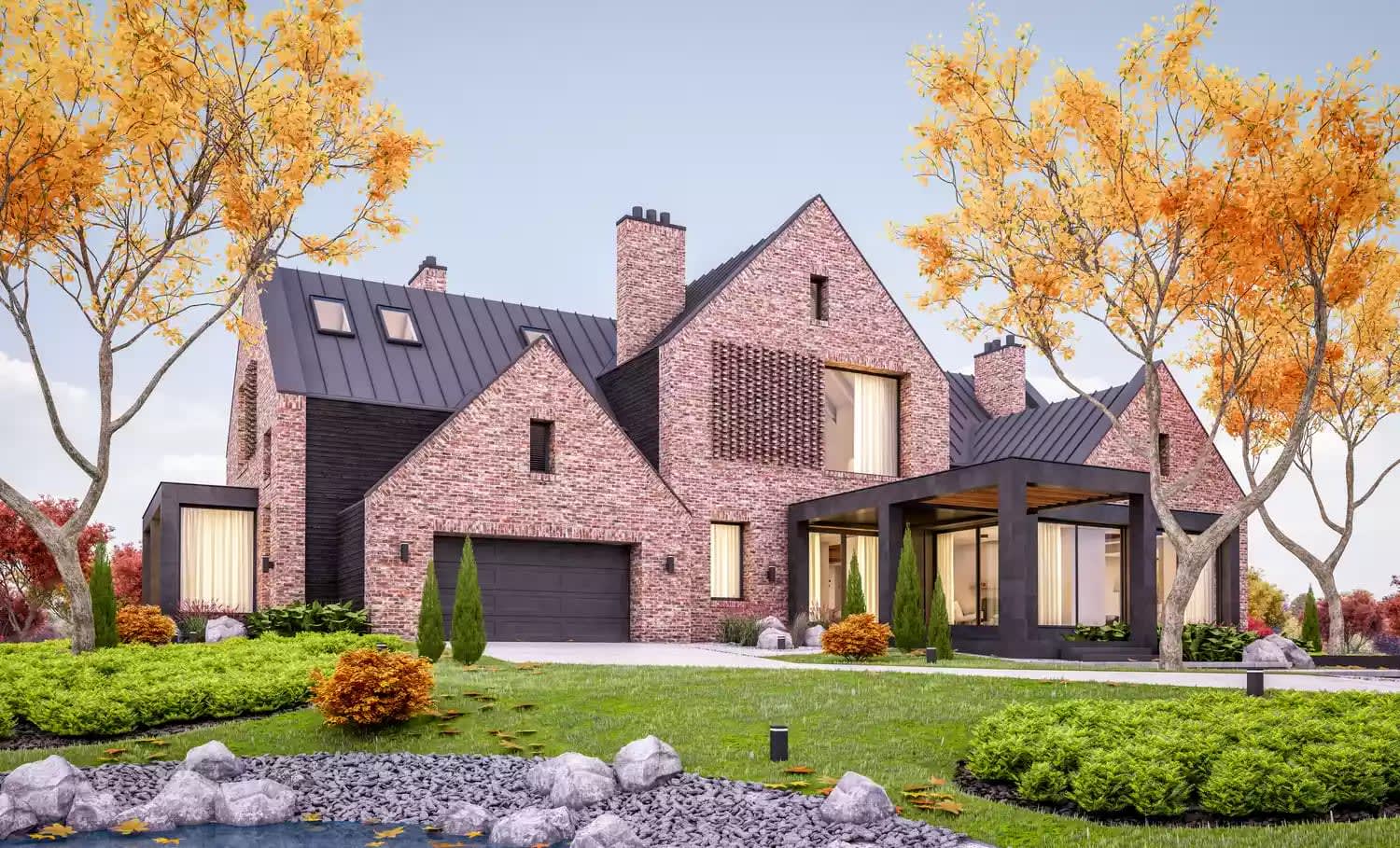 We've officially survived the third-hottest summer on record, according to
data from NOAA
, and frankly, many of us are embracing the cooler weather with open arms. Yes, those outdoor barbecues and splashes in the pool were fun, but the oppressive heat often limited the time spent outdoors.
But just because it's getting cooler doesn't mean all of the fun has to be taken indoors. In fact, a report by the home care app
Thumbtack
found that the focus on outdoor spaces isn't going to slow down just because the weather is cooling down. "According to our data, nearly one-third of homeowners plan to make a substantial investment into their outdoor spaces while 36 percent plan to invest in their home's exterior, and 12 percent plan to add a pool or hot tub," says David Steckel, home expert at Thumbtack.
In fact, Steckel says homeowners actually see fall as a reset. "Summer vacations are over, kids are back in school, and families are getting their homes ready for holiday celebrations," he says.
This time of year is not only a great time to work on new upgrades, but also to take care of necessary
maintenance tasks
. "Fall is the most important season to properly shut down and change over your systems to avoid costly damage come spring, as once the temperature starts to drastically fluctuate, materials start to flex and crack," Steckel says.
Thumbtack's latest consumer survey reveals that 65 percent of homeowners say they plan to invest in their current primary residence to make it their dream home. "And with the holidays approaching, 51 percent of homeowners are planning to use local home service professionals more this season," Steckel says.
Heading into the fall and winter of 2022, lawn mowing currently tops the list of the most booked outdoor projects. While homeowners may have been cutting their own lawns previously or delegating this task to their kids as the seasons change, they want a professional to cut the lawn and ensure there are no problems come winter.
Junk removal is the second most booked outdoor project. Along with the focus on using this season to reset, the push to get rid of unused items to declutter and reclaim valuable space makes perfect sense. Next on the list of trending outdoor projects is full-service lawn care, followed by landscaping.
See Thumbtack's full list of the top 10 most booked outdoor projects for fall (plus the current national average cost for each service):
In addition to the current seasonal uptick, Thumbtack has seen a year-over-year (YoY) increase in outdoor project installations and maintenance as well. Among the top trending outdoor projects are gazebo installation (+100 percent YoY), above-ground swimming pool installations (+42 percent YoY), hot tub and spa maintenance (+29 percent YoY), mosquito control services (+28 percent YoY), and swimming pool maintenance (+23 percent YoY).
Steckel says these changes were surprising. "Last year's data showed us an interesting change in behavior where consumers were moving away from pools and hot tubs with installations down and removals up," Steckel explains. However, he says consumers seem to have changed their minds. "They reframed this thinking and 'took it back so to speak, and now, we're seeing the interest in outdoor social areas like pools and hot tubs back on the rise this year, showing a year-round investment in outdoor spaces."
Holiday Maintenance
The Thumbtack report also reveals how homeowners are prepping for the holidays—and the numbers are trending up. "Seasonal lighting installations are up 46 percent YoY already, and fireplace and chimney repairs and cleanings are up 186 percent over the past three months alone." So, if you need to find a pro to hang your holiday lights, deep clean your home's interior, or prep your chimney or fireplace, Steckel recommends planning ahead and booking these services early.
Here are the top 10 most booked indoor projects ahead of the holidays:
The report provides a lot of interesting data, but Steckel says he hopes the biggest takeaway—especially for first-time homeowners—is the importance of proactively maintaining and caring for your home. "Pros are busier than ever and planning ahead can not only save you thousands in emergency repairs, but it can help put you at ease because you know that you're prepared for winter," he says.